Back
Лукас Шушкович / Lukas Schuschkowitsch
1896 - 1945
Edit
Born 13.10.1896 in Werebki
Died 27.2.1945 in Gusen
Biography
Whenever I think about my grandfather Luka Yakovlevich Shushkevich, I see a spring morning in 1944 in my mind's eye. It was April, the sun was shining, and my grandmother was hanging the whitened cloths in the house in preparation for the Easter celebrations. Suddenly we heard the rumble of motors, the street filled with exhaust fumes and loud human cries. Troops had come to the village of Verebki looking to exact vengeance. Without scruples, the soldiers went into every house, taking young people, men and women with them and herding them at gunpoint to the embankment – to a pile of earth on the left-hand bank of the Berezinsky Canal. There they looked into the black eye of a mounted machine-gun, and guards stood around the village – there was no possibility of escape, of hiding. Shocked people huddled against one another and sensed their imminent farewell from their home town…
Among them were his children – Vera and Shenya – and dozens of this fellow villagers, among whom he had lived for 48 years. Grandfather could not desert them and so took up a small basket, threw the strap over his shoulder and went as a respectable famer to the threshing square – from there it was possible to see what was happening to the people. He walked with his head bowed and seemed to carry the whole weight of the world on his shoulders. 'Why?' – his heart cried. 'Why do you take children?' He wanted to call out across the canal: 'Take me! But let them go!' But a Hitler fascist standing on the embankment beckoned him with his finger: 'Come here!' And grandfather became part of the crowd…
Grandmother waited for him her whole life. The children returned. They had worked for the occupiers in the county town of Lepel until the Red Army liberated them. And grandfather fell into fascist slavery and came to Auschwitz. Luka didn't know what was in store. Hitler decided that for him. Luka was a simple farmer from a village in the Vitebsk province and worked in the fields and pastures. There where his ancestors had lived for centuries: on the pure waters of the Bereshcha. He worked the soil, he had 'golden hands' – even today I look at the wooden furniture he carved in wonder: the hand-carved sideboard for the kitchen, the polished sofa for the living room, the roomy cupboard with fourteen drawers. His hands were valuable. Hitler knew it. He forced grandfather into the Reich interior to squeeze every last drop of life out of him.
And so grandfather came to the cruellest subcamp of Mauthausen concentration camp – Gusen. Luka Shushkevich did not know that the path along which the fascists had brought him was fatal for all. In April 1944 the Hitler fascists cleared the region between the Daugava and Berezina rivers in order to set up an execution site there. Luftwaffe field divisions stood in readiness near Vitebsk, and in the Alps state-of-the-art weapons – jet propelled fighter planes and V-rockets – were produced for them. There they built the underground works of the secret 'B8-Bergkristall' enterprise, and my grandfather was forced to shore up tunnels. Grandfather had prisoner number 81029. Hitler sought to breathe life into his crazy idea of plunging the entire world into chaos.
Luka Shushkevich did not live to see the day of victory. In February 1945 grandfather died of exhaustion on his camp bunk. He was terribly worried about his family, about his children, smoked a lot and traded bread for cigarettes. He died at daybreak…
My grandmother never saw her husband again. She prayed for him throughout her life: she could not believe that Luka was no longer alive. She did not know where he had been deported to, let alone about the underground installations. But she prayed for hope and that there would be no more war. She prayed for us all. When I think what she lived through! At the end of the war she had to cook nettle soup to survive. But she paid tribute to her husband and raised their children.
I discovered by grandfather's fate many years later – when the Iron Curtain fell. I am grateful to the International Tracing Service in Bad Arolsen and in particular to Mrs. Friedrich who answered my query with information about Luka Shushkevich. Sadly my grandmother did not live to see this moment. I visited my grandfather's place of death. I took a handful of earth from Gusen which is saturated with my grandfather's torments and suffering. I laid this earth next to the grave of my grandmother, under a lilac bush – like the one on the embroidered Easter cloths, which grandfather had last seen in his house.
Vasily Azoronok
Translation into English: Joanna White
Send information about this person...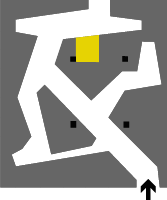 Location in room
Print version