Back
Angelo Valagussa
1922 - 1945
Edit
Born 24.6.1922 in Cernusco Lombardone
Died 14.3.1945 in Mauthausen
Biography
Angelo Valagussa was born in a farmhouse on property belonging to the noble Ancarani family. He spent his childhood and his years of primary education in the countryside. Then he moved to the Affori district of Milan, went to school, and later university, there and joined the Gruppi di Azione Patriottica (Patriotic Action Groups, or GAP). He was arrested by the Germans and deported to Mauthausen under prisoner number 82547. He died there in March 1945.
In Milan
With his parents, he moved from Cernusco Lombardone to Milan, continued to attend school and enrolled at university. He did not initially oppose Fascism. After 8 September 1943 he started to become more politically conscious: he understood the errors of Italian politics, joined the GAP and became active in Milan. As a result of these activities he had to return to live with his uncle Tommaso in Moscoro in 1943. He was in danger and had to leave the city in order to avoid arrest.
In the underground
He hardly dared to make contact with his relatives: these were hard times... But his uncle welcomed him warmly and shared with him what little he had. He stayed there for around two months and tried not to cause any problems. In the day he hid in the fields and only came home at night. It is not hard to imagine Angelo's thoughts, full of fear and impatience. His uncle's alarm is also easy to understand: knowing that he had offered him refuge, the more so as the house belonged to the Fascist mayor.
The war
Angelo was not on the front lines, did not fight. But the war also took place in these villages, even though it now seems impossible to imagine bomb blasts and executions here. To understand the grim mood of those times it is only necessary to speak to the old people and listen to their stories. 'You're young; you've no idea. But we saw it; we know that war is never just a war of soldiers; it affects everyone.'
They were numerous in Moscoro; the farm had 150 inhabitants because many people had been evacuated there.
The arrest
Angelo often travelled to Milan; short visits from morning to evening.
One day he did not return. He was arrested by the Germans, incarcerated in the San Vittore prison and then transferred to Fossoli.
Something unbelievable happened: his mother came to see him one last time. From the street next to the camp she was able to see her son beyond the barbed-wire fence. She walked onwards with a blank expression, without glancing even once in his direction, and Angelo watched her from the other side. This was how they exchanged their final heart-breaking regards, their last words.
The end
From the Fossoli camp, Angelo was deported to Mauthausen, where he arrived on 7 August 1944. He died there on 14 March 1945, a few weeks before the camp's liberation.
Gianpiero Soglio / Roberta Villa
Associazione Camerani / ANED, Milan section
Translation into English: Joanna White
Addendum: Today a small school in the north of Italy keeps the memory of Angelo Valagussa alive. It's situated in Cernusco Lombardone, the village where he was born. In fact, this school is called "Istituto Comprensivo Antonio Bonfanti e Angelo Valagussa". Such a name was chosen to help all the people in the school always to remember, not to repeat the past mistakes.
Files
Send information about this person...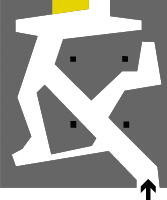 Location in room
Print version