Back
Marguerite Pellet
1904 - 1945
Edit
Born 12.8.1904 in Lyon
Died 20.3.1945 in Amstetten
Biography
After training at a school for primary school teachers in Lyon from 1920 to 1923, Marguerite Baud worked as a trainee teacher in Theizé (department of Rhône) in 1924 and in the following year as an assistant teacher in Saint-Pierre-la-Palud, before coming to teach at the Institute for the Deaf-Dumb, Blind and Disabled in Villeurbanne in 1927. In 1932 she was awarded her certificate of eligibility for teaching disabled people. On 21 December of the following year she was married in Villeurbanne to René Pellet, seven years her junior. In 1940, seven years after starting work at the Institute for the Deaf, Dumb, Blind and Retarded, he was appointed its director. From 1941 Marguerite, now a mother of two – Jacques (born on 25 October 1937) and Hélène (18 April 1940) – was director of the School for Blind Children, after having gained a diploma from the pedagogical college in 1936. During the war the Pellet family lived at 77 rue des Maisons Neuves in Villeurbanne (Rhône).
In 1942 Marguerite Pellet joined the resistance alongside her husband. René Pellet joined the Marco Polo network and became its third-in-command after founder Pierre Sonneville and Paul Guivante de Saint-Gast. (Guivante de Saint-Gast was arrested on 21 July 1943 in Lyon. As a Nacht-und-Nebel ('Night and Fog') prisoner he was taken first to the Neue Bremm camp near Saarbrücken and, in accordance with his status as a 'protective custody prisoner category III', was deported on to Mauthausen. He was held in the main camp throughout, where he had to work in the weaving mill and in work detachments, before being repatriated on the first convoy of the International Red Cross on 22 April 1945.) This information network was under the command of the Bureau central de renseignements et d'action, the central information and operations office of the resistance organisation France libre (Free France), which had its origins in General De Gaulle's Deuxième Bureau intelligence agency, which he had established in London on 1 July 1940.
Marguerite Pellet's work for the network mainly consisted of receiving messages coming in to the institute, the nerve centre of the organisation, of decoding them and then encoding the information destined for London. The institute offered a variety of possibilities: it enabled low profile secret meetings, fictitious jobs could be created for agents, materials and documents could be brought in and out without attracting suspicion…
On 24 November 1943, when René was on another mission in London, the network was badly hit – and Marguerite was arrested at her home. Her brother-in-law Paul and Lucien Périchon were also arrested on the same day, as were countless resistance fighters who came to the institute, in which had trap had been set. Both were deported to Mauthausen on 22 March 1944, together with others including Gaston Fléchier (arrested on 26 November), François Douris and Jean Bénech (both arrested on 20 December), Pierre Vitches (arrested on 23 December), Marcel Wyler, a Swiss man arrested the following day, and Paul Guivante de Saint-Gast. André Pellet, another of René's brothers, was arrested on 27 November at his apartment at 18 rue Servient and was then deported to Buchenwald on 27 January 1944. Of these men, all except François Douris, who died in Gusen on 24 July 1944, survived and were able to return to France in 1945.
Marguerite Pellet was interned at first in Fort Montluc in Lyon before being transported to the jail in Fresnes and then, on 24 February, to Fort Romainville, where she was assigned number 4377. On 2 March 1944 she was deported to Aachen prison with 49 other women likewise designated as Nacht-und-Nebel prisoners. Via Essen, Bremen and Hamburg she arrived at Ravensbrück on 16 March, where she was assigned prisoner number 31971. On 2 March 1945 she left Block 32 of this camp, where women categorised as Nacht-und-Nebel were housed, and arrived at Mauthausen after a five-day journey together with 568 or 569 other women. Here she was given prisoner number 2341.
On 20 March, less than fifteen days after her arrival in Austria, she was selected along with at least 494 other women, among them 106 Frenchwomen, from among the youngest and healthiest women to clear rubble from the railway tracks in Amstetten. The previous day this important railway junction had been bombarded by 255 bombers over three attacks, during which 180 trucks and locomotives were destroyed and buildings and tracks damaged. Two groups of women were formed: a day shift and a night shift. Marguerite Pellet was part of the day shift. While she and her comrades, all of them at the end of their strength, tried as best they could to clear away the bent metal pieces, the site was bombed again. She died during this renewed air raid, which also killed Armida Mion, Marie Ducy, Marie Trottier, Olga Melin, Raymonde Thibouville, Marthe Munnier, Yvonne Noutari, Charlotte Decock, Paulette Menoret and Eugénie Gravillon.
René knew that he was a wanted man but nevertheless he returned to France after the arrests in November. Following the deportation of his wife he settled in Chaponost, where he was arrested by the Germans on 20 July 1944. He was held prisoner in Montluc and was probably shot on 23 August. His body, which was thrown into the Rhône, was discovered on 26 August some sixty kilometres downstream in Saint-Pierre-de-Boeuf (department of Loire).
Marguerite Pellet was awarded the service medal of the Legion of Honour, the Résistance Medal (gazette dated 11 January 1947) and the War Cross (decree no. 1317 of 10 November 1945). On 15 September 1950 she was honoured with the distinction Mort pour la France (died for France) and the title déporté résistant (deported resistance fighter). A street in Lyon is named after René and Marguerite Pellet.
Adeline Lee
Sources
Service historique de la Défense, files MED 21 P 523773, 21 P 656919 (File on René Pellet), 21 P 656908 (File on André Pellet), 21 P 956916 (File on Paul Pellet), RA 2/19, 26 P 1134; Arrivals book for the Mauthausen women's concentration camp; Register of the Fort de Romainville; Romainville card index.
Archives Nationales, 72 AJ 63, Marco Polo Network.
References:
Thomas Fontaine: Les oubliés de Romainville, un camp allemand en France (1940-1944) [The forgotten of Romainville, a German camp in France (1940–1944)] (Paris 2005), p. 144.
Jacques Ghémard: René Pellet. In: http://www.francaislibres.net/liste/fiche.php?index=110380, accessed on 24.2.2015.
Bruno Permezel: Résistants à Lyon, Villeurbanne et aux alentours: 2824 engagements [Résistance fighters in Lyon, Villeurbanne and their surroundings: 2824 missions] (Lyon 2003), p. 501.
Translation into English: Joanna White
Send information about this person...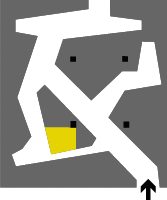 Location in room
Print version