Back
Antonio Díaz Rodríguez
1906 - 1941
Edit
Born 14.9.1906 in Alcanadre
Died 31.10.1941 in Gusen
Biography
He was born in Alcanadre, Spain, married to Juana Aguirre and with three daughters - Antonia Diaz (born 1931), Begoña Diaz (born 1933), and Magdalena Diaz (born 1935). Farmer of profession, he was a militant in the republican left and fought against Fascism in spain since 1936, passed the ruble to France in 1939, where he was confined in internment camps, in 1940 integrated in the companies of French workers facing Nazism in Europe. He was captured in Epinal, France, on June 20th, 1940, transferred to Fallingbostel XI-B. On August 5th, 1940, he was sent to Mauthausen together with 201 republicans.
Juanfran Murillo Diaz, grandson
Files
Send information about this person...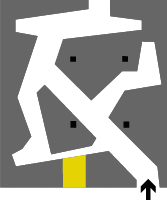 Location in room
Print version